Athena Chiropractic in Wilmington, DE, is here to tell you more about how we use this effective treatment to help our patients, including cold laser therapy.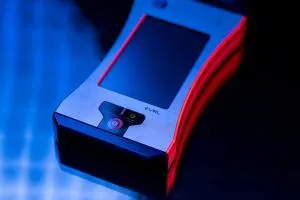 What Is Cold Laser Therapy?
This is a treatment that is useful for patients who suffer acute and chronic pain accompanied by swelling and spasms.
The device used for cold laser therapy is about the size of a flashlight and is placed over the injured area for anywhere between 30 seconds and several minutes. The photons emitting from the EVRL laser penetrate two to five centimeters beneath the skin. These photons are absorbed by light-sensitive elements in the cells. This begins a chain of events in the cells that leads to pain relief and the reduction of swelling. Increasing the intracellular metabolism hastens the healing process.
Who Should Receive Cold Laser Therapy
While the practice itself seems a bit unusual, it is a legitimate medical procedure approved by the FDA for several different conditions. If performed by a doctor or other qualified medical practitioner, cold laser therapy is safe and effective.
It is recommended for use on sprains, strains, healing of joints and soft tissues, and inflammation. It is shown to be useful in rejuvenating the skin and healing wounds. Research is being done to see how cold laser therapy affects more serious conditions, such as Alzheimer's and Parkinson's.
Pregnant people should not use cold laser therapy. It is also not recommended for cancerous lesions or anywhere near the thyroid or eyes.
How Chiropractors Use Cold Laser Therapy
Often, facet joint pain is treated with medication or surgery. If you don't like the side effects of medication or the risks of surgery, you might want to give cold laser therapy a try.
In combination with other treatments, cold laser therapy has been known to aid in the management of pain from facet joint inflammation. More research is needed to fully understand how beneficial cold laser therapy is for herniated discs, but some patients have found it effective for pain management.
How Athena Chiropractic Can Help You
If you are in the Wilmington, Delaware, area and need a chiropractor, Athena Chiropractic is here to help. We will assess your musculoskeletal system and deduct whether cold laser therapy or another treatment would be best for you. We will identify the root cause of your pain and address that immediately. We can also offer you counseling and advice in the areas of nutrition and lifestyle. Call us at (302) 543-4227 to schedule an appointment today.